When starting a career that solely depends on lead generation and referrals it can seem daunting. One would ask, "how do you get leads"? There are several ways, some are tried and true and others are more risky and require lots of attention. For example, Facebook page, direct mailer, and personal letter introducing oneself. I have chosen several different platforms for getting my name out there. They include:
The first thing I did was set up a business page on Facebook. Its FREE so why not. In today's society its almost a requirement to have an online presence for any business. When looking for a home today most people do months of research online prior to contacting a Realtor and you can bet that Realtor will be Googled by the potential client. I know I did that when I was in the client position.
Another platform that I took advantage of was my agent website. This tool is included in my desk fee that I pay to Windermere. Once the administrative assistant put through my documents I was able to set up the website. I had no idea how tech savvy I needed to be when I entered this field. Thank goodness for tech support! The website has my contact info, my listings, and a search bar for looking at all properties in the MLS.
Once I had Facebook and my website set up I was able to order my business cards. This box is like gold to me. It is so easy to hand hand out during conversation. The card has all my contact information on it.
I put together a personal letter to mail out as well. This introduces me as a new broker and outlines all my services. I sent this letter to everyone I know. Friends and family alike. I also enclosed 3 business cards with each letter.
And lastly, I ordered my first piece of marketing material just this weekend. Door hangers. A professional design geared towards homeowners who may be in the market to sell. As soon as these come in, I'll be hitting my favorite neighborhoods on foot to generate leads and hopefully listing appointments. This is what it looks like: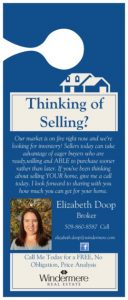 As of this afternoon, I've also contacted Zillow.com to discuss advertising with them. An agent can be added to their directory free of charge or for a fee one can become a premier agent which keeps your photo in the public eye as they use the website. I'm on the fence about paying for advertising at this point. I'm so new and have next to no budget. I'll keep you posted on what I decide.
Until next time,
Elizabeth